Texol Ranked As Top Web Developer in India by Clutch
Texol is Thrilled to be Named A Top Web Developer in India by Clutch! Texol is a complete technology solution provider that specializes in custom web design, web applications, mobile app development, e-commerce solutions, ERP, digital marketing and more. What makes us thrive is taking advantage of the latest technology trends and adopting to changes in the market to give our customers cutting-edge service. We are customer focused and are honored to be recognized as a leading web developer on Clutch for our high-profile clients!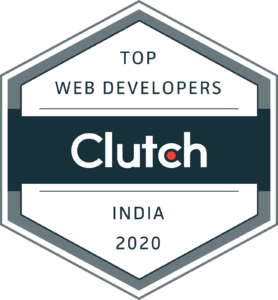 Clutch is a B2B ratings and review platform to inform companies of service providers in the face of a business challenge. When a business is looking for their newest partnership, it can browse Clutch directories to identify the best-fit match. Tens of thousands of companies hold Clutch profiles are powered by industry research. The secondary largest resource for these profiles are client testimonials that are gathered by Clutch analysts. These analysts conduct phone or online interviews with clients in order to authentically evaluate a business's expertise and ability to deliver. Top performing companies are then recognized in an award series based on region or industry, such as Texol being identified as a Top Web Developer in India. This recognition would not be possible without our loyal clients that take the time to share their experiences with Clutch. We are incredibly grateful for businesses such as Arab Experts Consulting, that gave us a perfect 5.0 star review.
We helped Arab Experts Consulting to construct a new website to highlight its key services. The new website was easy to navigate and highly secured with security plugins that protect it from hackers. According to the Senior Business Development Executive on the Clutch review, Arab Experts Consulting has experienced a winning spree of success since the launch of the website, including a significant increase in online traffic and presence. Check out a summary of our 5.0 star review below!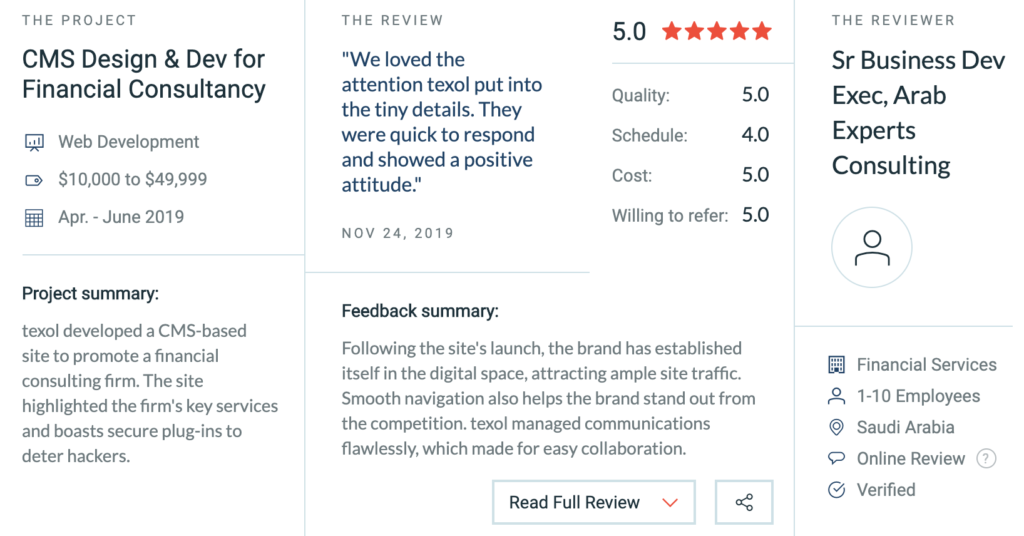 Positive feedback on our services inspires us to further develop the best strategies to help our clients. We cater to clients coming from different parts of the globe and we are always eager to expand our partnerships. If you are interested in working with our highly creative and adaptable team, we would love to hear from you!